HUION KAMVAS Pro 16 2.5K QHD
Quick Overview
- Outstanding Visuals: With 2560x1440 QHD resolution and a high pixel density of 186ppi, Huion Kamvas Pro 16(2.5K) will show every detail of your creation in striking clarity. And the full lamination technology helps reduce parallax to the lowest so your cursor appears exactly where you expect even at the edges. Besides, the anti-glare glass keeps you comfortable by preventing distracting reflections while the IPS panel technology lets you enjoy the same vibrant image from a wide angle of 178°.
- True-to-life Colors: Powered by Quantum Dot technology, Kamvas Pro 16(2.5K) drawing tablet is able to deliver 16.7 millions colors with 145% sRGB wide color gamut and a high contrast ratio of 1200:1 that ensures smooth color gradation and precision. It can satisfy the needs of creative professions from photo and video editing to graphics design who is looking for highly color-accurate graphics monitor. Every piece of content can be displayed in the exact color as the creators intend.
- Advanced Pen Performance: By using Huion PenTech 3.0, the battery-free stylus PW517 offers amazing precision and natural control with 8192 levels of pen pressure, ±60° tilt recognition and >300pps report rating. It just feels like a regular pen so you can start drawing and writing right out of the box without much of learning curve. Plus you can set up your favourite shortcuts to the pen-side buttons and the 8 express keys on the display making the creative process more productive and enjoyable.
- Powerful Connection: The Kamvas Pro 16 (2.5K) features a USB-C port that supports both HDMI and DP signal. You can easily and quickly hook it up to a wide variety of devices including Windows PC, Mac, Android tablets and phones with a single full-featured USB-C cable to transmit data, display signal and up to 100w power all at once. You also can use the 3 in 2 cable(HDMI) which is more stable and durable than the 3 in 1 cable. Enjoy a clutter-free work space with the powerful USB-C connectivity.
- Considerate Accessories: An adjustable stand is included so that you can quickly find your preferred position for all-day comfort. Except for standard nibs, it also comes with 5 felt nibs to meet different creative needs. Drawing glove, pen holder, extension cable... Everything you need is included. Kamvas Pro 16 (2.5K) is a creative tool you can reply on.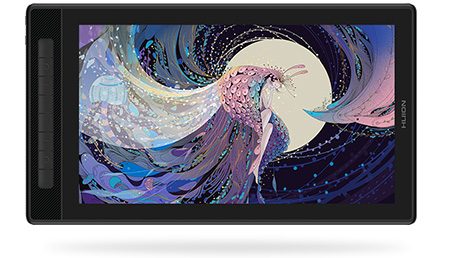 2.5K (QHD) resolution guarantees clear and delicate pictures.
145% sRGB wide color gamut is enabled by quantum dot technology.
A fully lamniated screen eliminates the air gap and minimizes parallax.
PenTech 3.0 to bring a natural drawing experience.
>300PPS report rate supports fast sketch without lagging.
8192 levels of pressure sensitivity to ensure natural and delicate lines.
Pen tablet mode offers users a new option.
Programmable press keys to speed your workflow.